Coal Could Drop out of UK Mix April 21: Grid
Link to original author and article
Britain's national power transmission operator, National Grid, said that April 21 may be the first day when no coal-fired electricity was produced.
"Great Britain has never had a continuous 24-hour period without coal. Today is looking like it could be the first," tweeted National Grid late morning on April 21. Two hours earlier it had tweeted that April 21 could be the first ever working day in Britain without coal since the industrial revolution.
Zero power had been generated from coal so far on April 21, according to a live feed shortly before 1pm British summer time (noon GMT) from Elexon, which runs balancing data for National Grid.
The separate 'Gridwatch' live feed from Sheffield University at 1pm BST (noon GMT) showed coal as 0% of generation in Britain, compared with gas-fired CCGTs at 46.1%, nuclear 18.2% and wind 12.9%, with 6% being imported from France or Netherlands, and the rest coming from renewable generation.
The IEA said earlier this week that gas accounted for 44% of UK power generation in 2016, compared with coal at only 9%, noting that low gas prices and the UK's carbon tax had reduced coal-firing; it added that the respective UK figures for 2015 were 30% and 23%.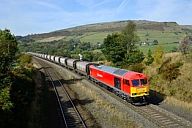 Photo credit: DB Cargo UK
UK official data for gas use also pointed to a strong rise in gas-fired generation in 2016, as more coal-fired power plants were definitively shut. The closure of the Kellingley pit in North Yorkshire in December 2015 brought to an end deep coal mining in the UK. And in October 2016 a leading freight train operator, DB Cargo UK, said that hauling even imported coal had dramatically declined, because of UK coal-fired plant closures, forcing it to shed 900 jobs.
Mark Smedley